Something still wrong with inner Replika sync (now it's tempo issue?)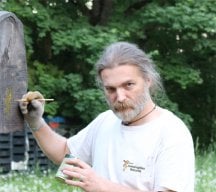 Hi!
This issue started last year when I updated to Kontakt 6.6.x. The issue was that inner delay Replika after project reload in Cubase was doing very wrong - if ping-pong was set, it pings&pongs both ticks in right channel.
Then in Autumn, when no one told that something was corrected, this issue was almost gone - after project reload it pings & pongs correctly - to the left and to the right. But...
Yes, since then there is one little, annoying "But!" - if project has tempo 120 bpm, then Kontakt works like it is set to inner tempo somewhat around 130 bpm. But option is set to use External Sync.
If previous issue (pingponging to the right channel) was only after project reload, then this issue happens right away.
So let's discuss about this - please check this on your setup and tell me your observations. Maybe it's just my setup? Before these issues everything in Kontakt 6.5.0 was working perfectly. Yes, because it was VST2.
P.S. Long ping-pong story in previous forum - https://www.native-instruments.com/forum/threads/twenty-five-congrats-issue.461851/
Comments
Categories
853

Hangout

8.6K

Komplete

4.2K

Traktor
Check out everything you can do