Record MIDI notes and Audio simultaneously from piano keyboard?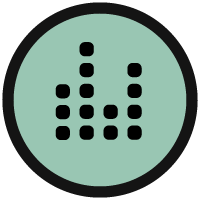 Maschine Studio with 2.14.5 / MacOS High Sierra 10.13.6
I am a novice piano keyboard player (Yamaha MX88) that would like to simultaneously capture the MIDI notes and the audio samples generated by a single performance on my digital piano/synthesizer keyboard. I like the sounds, and the ability to modify them from within this keyboard synthesizer--as well as the great sustain pedal support.
I've easily accomplished this using Logic Pro X, but am struggling to make it work with Maschine. Can I have track 1 capture MIDI notes and track 2 capture Audio simultaneously (both in the same group)? I've been trying to make this work via Maschine's audio sampler/recorder to capture Audio. If I succeed at capturing Audio, I fail at capturing MIDI notes in the pattern editor grid and vice versa. Is it possible to see Midi notes in Track 1 and a wave form for the audio in Track 2 (I've also not been able to see any kind of wave form in the pattern editor grid)?
Can Maschine simultaneously capture MIDI notes and audio?
Thank you.
Tagged:
Answers
Categories
753

Hangout

7.2K

Komplete

3.8K

Traktor
Check out everything you can do