Welcome to the new and improved Native Instruments online community. Join our active forum of 40,000+ members for discussions and much more.
Simple math question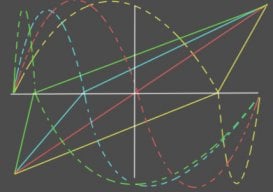 I replicated something I've seen on the pure data forum and something is really puzzling me
It's a simple ad envelope with the output going into a sqrt ,( the ad evelope mimicks the pure data line ~object going from--> to over x time )
The ouput of the envelope is fed into a sqrt module which make the linear attack stage rise faster , then using a mul* to increase the range( obviously not used for the right speaker because of huge dc signal)
What I don't get is why there is an obvious downward pitchbend when feeding it into a sine function , while the envelope is clearly rising .
Edit , just noticed a mistake on the screenshot , the green and rex bounding boxes on the waveform view should be swapped , sine =green , envelope =red
Comments
Categories
443

Hangout

4.9K

Komplete

2.6K

Traktor
Check out everything you can do