Looking for clarification or point of contact at Native-Instruments for EULA clarification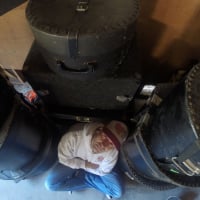 In reviewing the Native-Instruments EULA, I am a bit lost on the following sections and would like clarification on what can and cannot be done, in regards to beat and melody production.
Reference Section 3.7, and 3-8 including bullets a-d, in relation to owning Komplete Kontrol Ultimate Collectors Edition, which I currently have. If I use a kick drum from one library, a snare from another, a couple of synths, and a one shot sample to create a 2 minute melody-beat, am I in violation of the EULA if I want to sell it as a track? What about the stems, same question, is this acceptable?
I think it would be helpful to outline some real world scenarios as part of the EULA, possibly an FAQ. If examples are currently on the site, I'd appreciate having the links so I can review for awareness.
For what its worth the email address listed on the EULA page, goes to an unmonitored email address.
[email protected] (auto reply directing support page)
I could not locate a contact in the support section so I am posting here. Apologies if this information is on the site, I could not locate it.
Answers
Categories
758

Hangout

7.3K

Komplete

3.8K

Traktor
Check out everything you can do