Adding already downloaded libraries (NA2)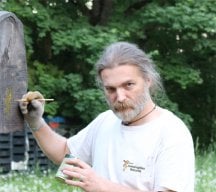 Hi!
My mobile studio rig has a hiccup and now I have clean Windows 10 and surprisingly good new Native Access 2. Everything works as expected including new bugs, but the questions are about adding libraries.
I have Komplete 13 Ultimate Collector's Edition and already spent whole yesterday to hit Locate button to add huge libraries one by one. Those are Instruments. It's nice that I haven't to have them download again.
Q1: Why there is no button Locate All? Or even better allow to select a bunch of items and have button Locate Selected. I'm sure most of NI users organize libraries so that all NI instruments and libraries (at least mandatory) are in one place. So, the button Locate All would help a lot.
Q2: Why there is no Locate button for Battery 4 Factory Library? It's the same constant as any other sample library. It is big enough to disturb any other things coming from Internet.
Also Absynth 5 I should download again despite of that sample library is already downloaded and isn't changed.
All other things are small enough and already downloaded. Reaktor Instruments, Effects and Applications.
Thank you, NI team, for your job. Nice NA2! I'm sure Kontakt 7 is brilliant with updated browsing.
P.S. If the upgrade price were affected by the fact that some of the libraries have already been purchased, I would not hesitate.
Tagged:
Answers
Categories
758

Hangout

7.3K

Komplete

3.8K

Traktor
Check out everything you can do