No Synth Sound over monitor boxes with komplete audio 6 - except for headphones...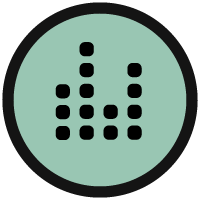 Hi, Community,
I'm new to this forum and hope I can get some hint about cable setups for my little recording studio I'm a advanced beginner..
I have the following problem and can't get a solution while searching for more than an hour... Perhaps sb here is able to help me out - here is the problem:
I put a behringer deepmind 12 with his 2 outputs into the int 1 and int 2 of the komplete audio 6 mk3 which I have some monitor boxes connected.
What I want:
I want to play my snythesizer and hear the sound over my monitors
What I get:
a) I play my synth and can listen to it over the headphones put into headphone 1 at komplete audio 6 - so the signal is there (even the blue lights at int 1 and 2 are flashing when I play the synth, and: I put the switches at the ka6 on "Int" and the switch on 1/2 on input
b) I open my DAW (presonus studio 5.5) and make a track and I can play my synth and - tadaaa... theres the sound via monitors - but I simply don't want to open my DAW everytime I want to play some Synth-Thingss.
Any suggestions would be appreciated ... I'm running out of ideas,
have a nice day,
Lg, Stefan Müller
Tagged:
Answers
Categories
759

Hangout

7.3K

Komplete

3.8K

Traktor
Check out everything you can do