Using Multis in a template in Reaper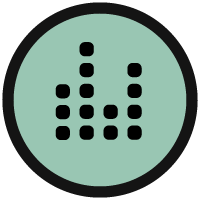 I'm setting up a 10 track template in Reaper. Each track is comprised of instruments from Spitfire's Albion One. Each of the tracks (downloaded from a class I'm taking) that make up the template is either a single instruments (.nki) or a multi (.nkm).
I start with a 16 track Kontakt template - I'm trying to do this with a single instance of Kontakt (which maybe is my problem?). I drag the .nkm's into Kontakt (all the individual instruments set up within one nkm - usually from 2 to 7 instruments - are already pre numbered for one of the track numbers, 1-10).
Typically, when I'd populate Kontakt with a lot of single instruments, they would all fall under the heading of "New (Default)" in the Multi Rack. However, when I bring in these new multi's, a new category will be formed for each in the Multi Rack.
The problem is, when I attempt to play a track in my Reaper template, I get no sound unless I open the Kontakt window, go up to the Rack and scroll through all the newly created Multis to have it visible.
Am I correct in assuming that is how it's supposed to work (kind of a pain when using a template), ie: there is no way to have all my tracks instantaneously available (ready to arm and play) without first scrolling through the Multi Racks in Kontakt (I still need to change the track assignment on my keyboard controller). It would be nice to have all the instruments from all the tracks fall under a single "Rack category", each of the many instruments that make up each of the 10 tracks would still be assigned to the appropriate track number, but I don't know if that's possible.
If so, I'm guessing the solution is to have multiple instances of Kontakt running? - One for each track.
Answers
Categories
740

Hangout

7.1K

Komplete

3.8K

Traktor
Check out everything you can do