Maschine+ as a midi player and vst host during live gigs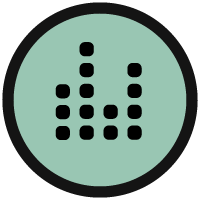 Hi all,
Does anyone have experience on using M+ as a midi player for playing supporting tracks during live gigs? This is what I want;
Play my Roland Fantom live
M+ Playing supporting tracks on my Roland Fantom for which I'm short of hands
M+ playing supporting tracks on M+ hosting some Kontakt instruments (Strings and Brass)
I explicitly cannot use the Roland Fantom build in sequencer as it has some limitations that cause a massive workflow to get it to work. At this moment I am using a PC with Cantabile and it works well, only problem is that Windows causes glitches in the midi playback every now and then.
Oh, and I choose to have midi playback, not audio. This enables me to switch on and of tracks on demand. Very handy when for example our drummer or bass player cannot attend a rehearsel. I also have those tracks as midi so we can rehearse with some band members not attending.
I was wondering if it would be worth to buy an M+ to replace the PC with Cantabile.
Thanks in advance for your feedback!
Greetz, Franc
Tagged:
Categories
750

Hangout

7.2K

Komplete

3.8K

Traktor
Check out everything you can do