Two computers, Kontakt files on only master, slave access via shared network drive?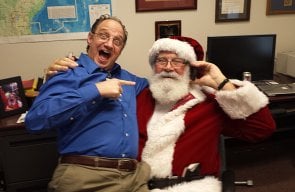 I have a master PC with my DAW and a slave PC running Vienna Ensemble Pro. I want to use the slave computer to offload some processing from the master, but I would rather not have to copy libraries to that system.
On the slave computer, rather than having to copy the library files there, I want to try to access my existing libraries that have been installed on the master computer via a mapped network drive to where the files are stored on my master PC.
Now, on the slave computer I entered the library serial number into NA. But when I try to assign the library location in Native Access to the shared location it tells me that the path is invalid. Why? It needs to be more specific.
Why will it not allow me to use that library as the location? Is it because the master computer has also been set to use the library at that location? I don't get it.
One curious thing about this though is that after "Locating" to a locally installed duplicate copy of the library, which satisfied NA, when I go to VEPro after reopening it I can then open the library from the share drive location. I then exited VEPro on the slave, changed the name of the slave .nicnt file, and it still worked when VEPro was reopened on the slave. So it seems as if the instance in VEPro is using the info from the shared drive only.
UPDATE: As I suspected, it seems that the network traffic that occurs when doing this is too much for my setup. So, I guess I'll just bite the bullet and copy over full libraries to the slave where need.
Answers
Categories
844

Hangout

8.5K

Komplete

4.2K

Traktor
Check out everything you can do