Need workflow suggestions: Why my projects never get finished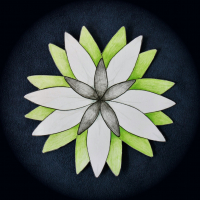 Hello community!
I'd like to get some advice on workflow, because my projects tend to bog down and I'd like to finish something for once...
Here's how my current production process generally goes:
Getting an idea - usually in head, behind the piano or while playing around in my DAW.
Exploration and expanding on idea - behind piano or in DAW
Attempt to codify idea - usually by recording piano or writing notes in Notation software.
Converting to professional sound - moving composition to DAW, work out instrumentation, new recording takes, applying 'humanization' on MIDI notes.
Mixing process - get instruments to work well together
Mastering process - making things loud
So, things tend to break down between point 4 and 5. I rarely get past de mixing stage, because:
lacking endurance / getting discouraged
rhythms conflict
composition problems
not satisfied with sound
missing key knowledge with regards to mixing
Eventually things get so overwhelming that I have to give up. When I come back to a project later I just don't know where to pick it up again.
My main issue is with mixing, perhaps setting up a good starting point. Some VSTs are very soft by default, while others are very loud. I don't know how to begin setting the levels. I found online mixing tutorials to be generally useless. I need someone to walk me through the basics step by step, really.
How can I improve my workflow and where can I find the knowledge I'm looking for?
Regards,
-- RM
Tagged:
Comments
Categories
766

Hangout

7.3K

Komplete

3.8K

Traktor
Check out everything you can do